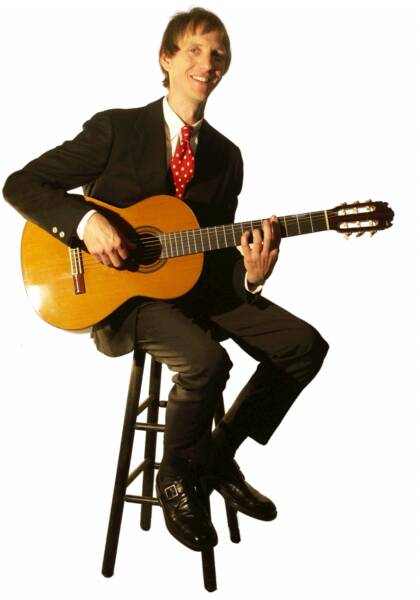 American born guitarist and composer Stephen Nutt has enjoyed a career working with a wide diversity of ensembles and musical genres.  He began formal studies in 1981 at the University of North Texas pursuing a degree in Jazz Studies while continuing to play in the rock/pop band he had formed in high school.  Upon completion of a Bachelor of Music degree, he turned his attention to solo classical guitar, and in 1988 was awarded a position as Graduate Teaching Fellow at University of North Texas, where he began studying with Thomas Johnson.  His performances included master classes under the direction of Ricardo Cobo, Baltazar Benitez and Elliot Fisk.  Stephen's interest in the music of the Romantic period prompted him to undertake transcriptions of piano works by Brahms and Debussy for two guitars, and in 1990 he became a candidate for a Fulbright Scholarship for which he had developed a proposal to study transcription at Amsterdam Conservatory.

During his studies of composition with Larry Austin and Phil Winsor, Stephen recorded a soundtrack for a local theatrical  production of "Zoo Story" by Edward Albee.  His composition for Synclavier entitled "Centrifuge" was perfomed at U.N.T's Spectrum Multimedia Series. Since receiving his Master of Music degree in 1991, he has continued to teach privately and to perform both as a soloist and as singer, guitarist and songwriter for Dallas based rock trio Fury III, with which he released three CD's and toured to New York City and Los Angeles, appearing at the 2001 Angel Citi Music Conference.

Stephen taught guitar for two years at Tarrant County College Northwest, and is currently Adjunct Professor of Music at Tarrant County College Southeast, where he teaches guitar, music reading and music appreciation.